Once again we are so pleased to hear that we have been included in The 2017 CAMRA Good Beer Guide.  This is the best-selling guide book in the UK for beer drinkers, and is based on reviews by CAMRA members who will constantly survey likely pubs to check on the quality and range of ales on offer.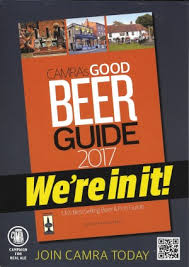 We have extended our range of real ales to 4, and will try to have 2 regular beers on offer, Hancocks HB 3.6% and  3 guests, (1 local and 1 national brand).  In this way we can offer our customers a great range of traditional ales to suit all palates.
We are delighted to be recognised by CAMRA, we would like to thank all the breweries that have supplied us with excellent beer and thanks to the CAMRA members who included us.