In nearly every direction The Bridge has fabulous views: take in the view across The Usk and Castle Meadows towards Abergavenny town and The Skirrid mountain, or the view of the ancient river bridge and beyond to Sugarloaf mountain. To the south-west rises the magnificent Blorenge mountain from which paragliders regularly land in front of the pub on the Castle Meadows.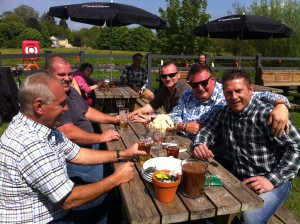 Abergavenny is known as the Gateway to the Brecon Beacons National Park and is a fantastic place to use as a base for a weekend or a longer holiday.   The center of town is a flat 10-minute walk away and foot of our nearest hill – The Blorenge – is about the same.  The top, however, is a lot further away but does offer breathtaking views over Abergavenny and out into the Brecon Beacons so is well worth the effort.  But if you don't want to walk to the top it is possible to drive.
We have four large rooms which are all decorated to a very high standard, all of which have en-suite facilities and they are very reasonably priced too so why not come and use the Bridge as your base ?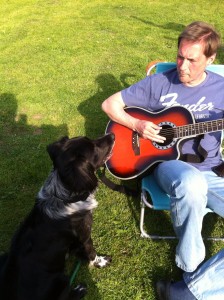 There's always plenty to do in and around Abergavenny so we've put together some guides to give you some ideas whether you're into fishing, walking, cycling, horse riding or you simply prefer to go shopping.
No matter what your preferred activity is, you'll always find a warm welcome in the bar on your return at the end of the day.  The Bridge has a busy bar which is well used by locals and visitors alike. We provide good home cooked food and have a good selection of wines, spirits and real ales. We are extremely dog-friendly – we have two ourselves – and we welcome children and families.  We even have a selection of games to keep the little ones amused !
Behind the pub is a large Beer garden which is a fabulous place to enjoy a relaxing afternoon watching the river and taking in the breathtaking views. At weekends we often have live music on our outdoor stage.  We also have a well-stocked garden bar in the beer garden which is open in the summer when the sun shines.
We hope to welcome you at the Bridge soon and show you why people love Abergavenny and its laidback atmosphere !